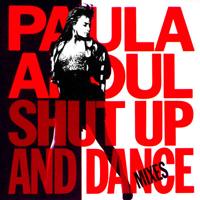 Paula Abdul "Shut Up And Dance"
TRACK LISTING
Cold Hearted (Quiverin' 12 Inch)
Straight Up (Ultimix Mix)

One Or The Other (1990 Mix)

Forever Your Girl (Frankie Foncett Mix)

Knocked Out (Pettibone 12 Inch)

(It's Just) The Way That You Love Me (Houseafire Edit)

Opposites Attract (1990 Mix)

1990 Medley Mix
*Click links to download song clips.

ALBUM INFORMATION

Released in May 1990, the album contains eight remixes of Paula's most popular, previously recorded songs from the "Forever Your Girl" album, including Elliot hit songs "Straight Up" and "Cold Hearted".

"Shut Up and Dance" peaked at #7 on Billboard Charts and went Platinum— selling over one million copies.

The UK version of "Shut Up And Dance" contains four additional remixes not included on the US release.
Knocked Out (Power Mix)

Opposites Attract (Shep's Special Mix)

Forever Your Girl (Shep's Special Mix)

Cold Hearted (Chad Jackson 12" Re-Mix)
RELATED PAGES