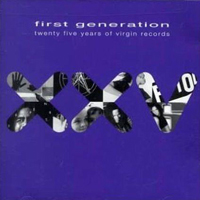 Various Artists "First Generation: Virgin 25 Years"
TRACK LISTING
Disc: 1
Tubular Bells (Excerpt) - Mike Oldfield

Don't You Want Me - Human League

Do You Really Want To Hurt Me - Culture Club

Making Plans For Nigle - XTC

Don't You (Forget About Me) - Simple Minds

Pretty Vacant - The Sex Pistols

Cherub Rock - Smashing Pumpkins

Somedays - Neneh Cherry

In The Air Tonight - Phil Collins

Red Red Wine - UB40

Died In Your Arms, (I Just) - Cutting Crew

Straight Up - Paula Abdul

The Passenger - Iggy Pop
Disc: 2
Are You Gonna Go My Way - Lenny Kravitz

Tommorrow People - Ziggy Marley

I Got 5 On It - Luniz/Michael Marshall

Boombastic - Shaggy

Protection - Massive Attack

Close To You - Maxi Priest

Wannabe - Spice Girls

Return To Innocence - Enigma

Low - Cracker

Between You And Me - DC Talk

Ground On Down - Ben Harper

Block Rockin Beats - The Chemical Brothers
*Click links to download song clips.

ALBUM INFORMATION

Most people think of Virgin Records as the multinational recording conglomerate that has proven to be one of the giants of the industry in the 1990s. Indeed, that is true. However, like a lot of big dinosaurs, they got their start as one of the most feisty independents of their time. Virgin XXV Years collects a lot of label material that reflects their irreverence and eclecticism, as well as their excellent commercial instincts.

The label got off to a roaring start in the mid-'70s with Mike Oldfield's gigantic hit "Tubular Bells," and somehow the connection with controversial (and very successful) film it was included in, The Exorcist, was a taste of things to come. Along with visionary signings such as the Sex Pistols (their track, "Pretty Vacant," is not as scary as when it came out, but just as good), Phil Collins, Lenny Kravitz, Paula Abdul and such hip late-'90s acts as Cracker and Massive Attack, Virgin Records has continued to stay one step ahead of the game, and this collection shows you where it all began, as well as where it's going.

"Straight Up" written, arranged and produced by Elliot Wolff. Recorded by Paula Abdul.

"Straight Up" was # 1 on Billboard Charts for three weeks and was a Top 40 hit for 14 weeks in 1989.

Elliot Wolff was the recipient of the 1989 ASCAP Song of the Year award for the hit song "Straight Up" recorded by Paula Abdul.

Paula Abdul's "Forever Your Girl" was one of Virgin Records best-selling albums of all time, so it would only make sense that "Straight Up", Paula's most celebrated hit song, would appear on the "25 Years" compilation.
MUSIC VIDEO